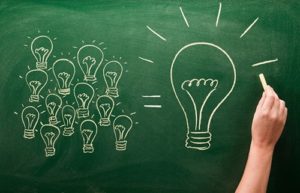 I'm going to leave this right here: I think being a Product Owner is the most difficult roles in Scrum, and one of the least supported, which adds to the difficulty. I see so many new Product Owners struggling with the role, I started the Tampa Bay Product Owner Meetup – and if you are in the area, we'd love to have you come!
I wanted to write about a great tool I've borrowed from a product master, Roman Pichler. It helps with the following scenarios I often see in engagements.
The Product Owner has an exciting new idea they want to implement, they bring it to the development team, they deliver a passionate description. The team launches right into development – but several sprints deep it feels like a struggle, and someone asks: "So – what exactly are we building – and… why?  Another common question when things go awry: "Did anyone think about… (fill in the workaround, risk, issue, here…)"
Conversely, we have experienced Product Owners who make the mistake of going too deep, designing the solution before they have clarified the 'what' and 'why.'  This reduces the discovery process with the development team who could help innovate and eliminate waste long before they start writing code.
Hopefully we have all experienced the success stories too. Success comes when execution of a new product starts with the foundation of shared understanding within the whole Scrum Team. The product takes flight, development seems to fall into place, morale and creativity flow as easily as the banter in the Scrum events.
We all know these anti-patterns but how do we avoid them?
A valuable practice for all Product Owners is to describe your product's 'what and why' through a charter-style one-page description. Roman Pichler refers to this as a product canvas. This is literally one page of clear, consumable information to help bring the Scrum Team into alignment.
Pichler suggests that a product canvas contains these valuable elements:
What is the desired, high-level use of the enhancement or product you envision? This seems easy, but it takes effort and time clearly define the outcome. Spending that time up front to clarify your vision will keep you from going too deep into the solution. This quote by Albert Einstein comes to mind: "Simple is removing the obvious." Keeping your canvas to one page helps make it simple, and therefore memorable.
What is the goal and how will you measure it? Avoid falling back on the popular 'improve customer experience.' Goals should be SMART – specific, measurable, attainable, realistic and timely with clear metrics outlined at the beginning that define 'Done.' For example, if you have a current customer survey with customer satisfaction metrics, then your metric might be be 'improve customer experience 25% by 90 days post-launch.
How does this epic or feature tie into the organizations bigger picture? Make it clear how your new idea will enhance existing organizational objectives. If it doesn't align with a current objective, this might be a sign that it is time to define a new opportunity with your organization's portfolio and product managers.
These one-page outputs are helpful to have in kickoff and planning events, and to make visible in the Scrum Team space. This artifact helps the whole team focus on the big picture, deliver value fast, and avoid waste and gold-plating. Here's a tip from my own use: If you feel the need to go beyond a one page description, you might consider that you are not clear on the 'what' and 'why' yourself, or you are not focusing on the right level of information.
I think of Pichler's book as a textbook for new Product Owners. "Agile Product Management with Scrum: Creating Products that Customers Love" His website provides great ideas and practical tools for defining your product's users, use, and features. Check out his product canvas or ask me for mine – or make your own! Start practicing your 'Why' today!
I'd love to hear how this practical "how-to" worked for you. Please share, and leave a comment.
Your coach, Julee Bellomo
Live your truth; hone your craft; show your thanks