It's been 15 yea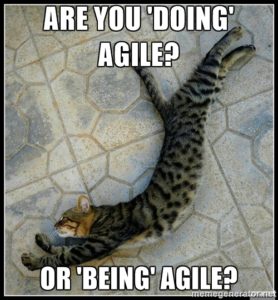 rs since the Agile Manifesto and there is no refuting the consistent evidence that agile works. The Standish Group's 2011 Chaos Report states that "Agile projects are three times more successful than non-agile projects."  Nearly every technology shop is working within some kind of agile framework, mostly Scrum. However, if you are working in the field, you might have recently used the term "Scrum-but." For the uninitiated, this term refers to the myriad of ways that teams, trying to deliver in an agile fashion, conflict with traditional requirements, supervision, reporting, and bottlenecks.
Scaling agile for delivery efforts versus an enterprise culture.
If we are talking about multiple teams working on one product, program or value stream, we are talking about scaling Agile. There is no one-size fits all model, although four of the five best known scaling models are based on Scrum. Every one provides a framework for organizations to deliver big, complex features with multiple moving parts.
They don't offer solutions for hiring the right talent; for determining compensation in a team-based world; for structuring contracts with vendors that complement agile deliverables rather than handicap them. They don't describe how to partner with clients on delivery projects with a focus on value and quality instead of scope. They don't focus on how to grow the agile mindset.
Once we are talking about anything outside of delivering the work, we are talking about enterprise agility. Enterprise agility encompasses all aspects of an organization. It requires a baseline of a learning culture, a shallow organizational structure, and the embedded value of experimentation. It goes beyond development teams: HR in hiring for passion, retaining the agile mindset, and developing new career paths; Legal and Accounting to adjust their vendor and client contracts; Marketing and Sales to collaborate with customer relationships in frequent feedback and planning sessions. In fact, perhaps the pr
oof of an agile organization is shown through the crucial handshake between business and technology.
Is one more important than the other? 
Any agile enterprise can implement scaled delivery but not all scaled initiatives require an agile enterprise. However, an organization wanting to scale agile will benefit upstream from discoveries made through executing an agile framework.  In practice, many of the engagements I've worked on have been focused on delivering scaled agile programs within traditional project management structures. They can still be successful – but without the baseline of enterprise agility, adoption of any agile framework has limitations. A major issue I see in businesses I work with when agile has been poorly implemented outside the delivery teams: people create processes to fill the cavity created from an absence of trust. The result is that autonomous, innovative teams wither under too much process.
Too much

process kills innovation. It's worth it – business agility has been proven to reduce risk, attract talent, and improve the bottom line.  With the modern challenges and speed of our global, digital marketplace, companies can't afford not to embrace an agile mindset in the competition to attract top young talent. Millennials are naturally attracted to companies with an emphasis on "flat management, self-regulating teams, business context, iteration and ability to adapt quickly." (Dave West, Scrum.org)
What they are not
We are not talking about product management. I like this definition: "Product Management is about determining your product line" or perhaps you need to investigate if you are building the 'right' product. That's another practice – complementary to an agile transformation, and one that requires innovation and strategic investments at the leadership level. See Lean Startup/Product Management Ninja Chris Spagnuolo for help with your product lines.
Where do we start?
Cultural agility.  Spotify founded their scaling efforts in their collaborative culture, which led to a strong agile presence in the technology space: they have successfully implemented their own unique 'noname' framework. Is culture enough? It's the starting point. It must be the pervasive melody that is carried through all other decisions to create harmony in the organization. At the #Agile2016 conference, Nicola Dourambeis (#CulturalAgility) related her experiences with big enterprise initiatives and succinctly concluded "A sound agile transformation has to be both top down and bottom up to be effective."
Take the first step
Any agile transformation is, at its heart, a change program. Get started, work hard, and be patient! Focus on evolutionary, rather than revolutionary iterations to allow your organization to deliver while they experiment with new mindsets and practices. If your organization is embarking on a scaled agile effort, use that first step to foster the upstream enthusiasm that comes from the momentum it will create. Every step towards agility can have massive payoffs – particularly at scale.
The bottom line
An organization can be agile, without doing Agile. However, for those ready to grow their agile journey, the benefits of adopting any scaled agile framework are exponentially greater when combined with the complementary mindset, people, and organizational practices of true cultural agility. The evolution is critical.
Good luck on your journey,
~Julee Bellomo
Live your truth; hone your craft; show your thanks